We carry fasteners from Atlas Fasteners. A reputable, nationally known company for providing quality fasteners for the construction industry. We stock several sizes in matching colors of our metal.
The three types of fasteners listed below are our most popular ones. However we do carry the pancake head screws to fasten standing seam panels as well.
Visit www.atlasfasteners.com for more info and technical specifications on these screws.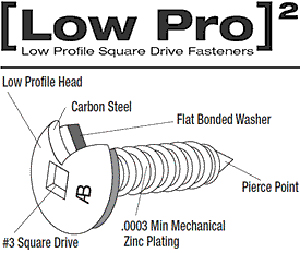 #12 Low Pro
An Engineered Low Profile Fastener That Is:
Low profile design provides added clearance for concealed fastener panel systems
Cosmetically appealing
Low head height blends in with panel
Head entraps sealing washer
Wobble free Installation
#3 Driver installs all sizes
No pre-drilling required
Coarse threads provide secure fastening into wood and metal
Pull Out Test Values

#14 WoodTite
Head and sealing washer painted with oven cured poly-urethane enamel
Sealing washer is non-conductive EPDM rubber
Deep thread form for maximum pullout resistance
OxySeal ll provides increased corrosion protection
Type-17 Point easily penetrates lapped high tension steel
Available in all colors
Available in 1 inch & 2 inch lengths.
Great for OSB and plywood fastening
Pull Out Test Values

#10 WoodTite
Combining the elements of the Type-17 point and specialized hybrid threads allows for the #10 WoodTite to penetrate the metal panel, hard woods, and knots easier allowing for quicker installation. Typically used for metal to solid wood applications.
​#10 WoodTite Features
Innovative hybrid threads to cut through hard woods and knots
Self tapping type-17 point, to help remove pigtails
Nonconductive washer
Available in all colors
Available in 1 inch & 1.5 inch lengths
Pull Out Test Values