Corrugated Galvalume Panels
We stock this Galvalume corrugated panel in 12′ lengths. This profile is available in painted colors as well but will need to be special ordered.
Applications: Agricultural, Light Industrial, Wayne's Coat, Interior decoration. Often used for rustic, traditional look.
Thickness: 29 gauge
​Sheet Coverage: 24″ on walls. 21.25″ on roof.
​Colors: Galvalume (painted available if special ordered)
​Sheet Length: 12′
There is no warranty on this product.
Panel Fastening
Use a no. 10 x 1″ if fastening into solid wood. Use a no. 12 or 14 x 1″ if fastening into plywood/OSB.
Lap fastening
If using on low pitch roof, it is recommended to use Butyl tape on underlap rib. Then fasten the lap with a stitch screw every 2 feet.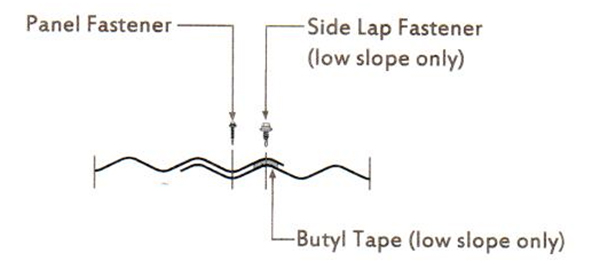 Corrugated Galvalume Panels – Alaska Siding Supplies